Glamour Gal JESSIE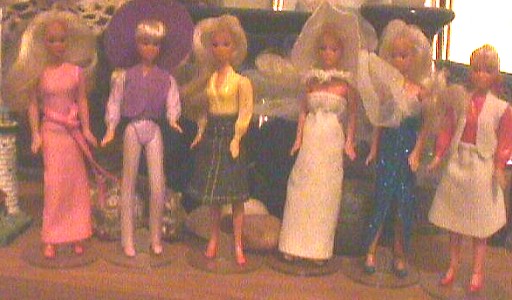 Jessie is a lovely blonde (with bangs) and has brown eyes. For each of the outfits described, I have added any accessories I know of and any additional information. As a note, all Glamour Gals originally came with a comb and a stand. The ** symbol indicates that it is a doll or accessory I am looking for in my personal collection. For JESSIE, the following symbols indicate which series she belongs to:
(O) Original
(J) Jewelry
(O+J) Original and Jewelry versions
(J+N) Jewelry and non-Jewelry, non-Original versions
(Blank) indicates neither original nor jewelry or unknown
PERFECTLY PURPLE (O)
molded purple pants, blouse and shoes
purple faux-suede vest
purple "donut" hat (vinyl circle with circle cut-out in middle for head)
BEAUTIFUL BRIDE (O+J)
molded white shoes with straps
long, white gown , strapless w/elastic waist
ruffled lace circle w/elastic from bodice center around neck
white headdress consisting of flocked "donut" hat w/attached veil of net
donut hat is made of faux suede
NOTE--dress frequently slips down on Jessie--how embarrassing!
JEAN SUPREME (O)
molded reddish/orangish shoes
molded yellow v-neck blouse
blue denim skirt with yellow stitching
included in Girls on the Go and Sears Exclusive SET
NOTE--probably the most frequently found Glamour Gals doll
**WARM AND WONDERFUL
molded pink pants, blouse, shoes
beige faux-leather coat w/turned-back cuffs and collar (looks like a raincoat)
beige ribbon sash
**CINNAMON TOAST (J+N)
molded beige pants, shoes
tan, short-sleeve, v-neck sweater
metallic-gold ribbon sash, knotted in front
metallic-gold shoulder bag w/metallic-gold cord strap
Jewelry version came with gold earrings
**JUNGLE JADE (J+N)
molded olive-green shoes w/molded laces crossed and tied around ankles
molded short-sleeve shirt w/"camouflage" green, light. green, met. gold
olive-green, faux-leather, below-knee-length pants
green cowgirl hat w/metallic-gold cord
Jewelry version came with a gold bracelet
BLUE MOON (J)
molded royal blue shoes
long, sparkle-sapphire gown w/side slit from hem to above knee
white, two-layer "flounce" of white gauze/net attached over shoulder
blue ribbon sash
Jewelry version came with a pearl necklace
I Need the necklace and Sash
**PONY PRINT (J)
molded ivory jeans and brown boots
faux-suede outfit, white background w/brown splotches
chaps w/ fringed side-seams, elastic waist band
vest w/fringed "hem" and brown cord closure threaded through punched holes
ivory cowgirl hat
turquoise ribbon sash w/silver buckle in front--jewelry piece
**JOGGING JOY (J)
molded white shoes
sweatshirt and sweat pants, pale blue w/pink and blue "splatter" design
gold headband--jewelry piece
"ROSE DAZZLER" (special mail-in offer - Sarah made up this name)
molded pink shoes
long, pink, one-shouldered gown
pink ribbon sash
NOTE: dress is identical to Loni's Green Dazzler
Ocean Queen Crew Jessie
molded red shoes with straps
faux suede white vest and skirt
molded red long sleeved shirt
red ribbon for hair
NOTE: see accessory page for more details
Click HERE to return to the Glamour Gals ID page

Click HERE if you have one of the Glamour Gals you would like to sell